HAPPY 2006!!!!!!!!!
Hello you drunk motherfuckers you!...So today is officially 2006 and I thought 05' would never end. It's been one of the hardest years i've ever had to endure and I'm thankful that i'm still alive and well.
Now, I know you all have your drunken stories of sloth, hedonism and fornicaton. But lemme tell you about mine..For the past 5 years Takeitoutside has shared a quiet evening at home with family (Takeitoutside loves her fam)..I never go out and party at dingy ass clubs with hoodrats and clowns. I'm a homebody and I don't drink too often. So why was this year to be any different? It really wasn't except for one fact. I got drunk..I mean

REEEEEAALLLY

drunk. The plan was for me and the b/f to get a room and have lots of sex right... We've been together for what seems like forever (6 years) and we've never spent New Years together if you can believe it. So this year I

really

wanted to be with him...But the plan fell through. Last minute nigga stuff..you understand right? So while I waited from my b/f to call me back with the verdict I ended up at home making trays of orderves (yes "orderves" I know that ain't right nigga, please correct my ignant ass..lol); cheese, pepperoni, and olives on one tray and a fruit tray with apples, oranges, all that good shit. I hooked up a chocolate cake. And last but not least some beef quesadillas.

MMmm mmMM BITCH indeed.


But back to the story. 15 minutes till another year of Dubya as President and my b/f still hasn't called.. I was livid, concerned, and turned on all at the same time. The clock strikes 12a.m., Dick Clark kisses some white lady, and I'm toasting with mom dukes, lil brother & sis.

Mixed with a range of emotions and exhausted from the day, somewhere along the line I got the bright idea that drinking an entire bottle of Merlot would be beneficial to my health and well-being, so I began to chug. And chug. And chug. I think I can. I think I can. I think I can. The little drunk that could.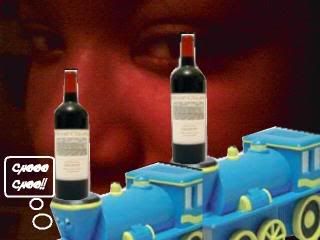 Soon I forgot all about how mad I was inebriated to the point of no return. By 1.a.m i've assaulted my little sis with a butterknife, called around for my b/f and found out where he was (fireworks), and I'm pooped. I go to sleep. Around 4:26 a.m I awoke to the sound of my b/f's C.R.E.A.M ringtone. He tells me that he's coming over. I literally crawl out of bed to the bathroom and immediately start urling..

Dis

.

gust

.

ing

. The b/f gets to my house with friends, and to my surprise. He's urling too. Bright orange gook all over the parking lot. AWWWWwww. How lovely? We give eachother a New Years kiss. We are drunk. We are so cayute!

*violins*

Moral of the story: It's moments like these that remind me why I fell in love with him. I didn't care that we weren't together at 12 a.m exactly. I'm just happy that he's still here with me, and will hopefully always be. And plan ahead kids. All of this could've been avoided had we'd planned ahead. Gotta limit those nigga moments.