Randoms..
Jada Pinkett Smith
with her band "Wicked Wisdom"..sniff sniff..Is that the smell of corn and H.A.M?!..Where is will when ya need him? He need's to sit honey down and have a heart to heart with her, hold her hand or something..
This just in..
--So I heard about this early last year waaay before Karrine "Superhoe" Stephans decided to go mainstream media whore. But apparently Nas' ex/baby mama, Carmen Bryan is set to release her book called :"Sex, Drugs and Hip-Hop — Oh, and Did I Mention Love?" She's supposed to be airing out her relationship with NaS & her role with the whole Jay/NaS beef. Read the rest right chea...
In my opinion, I think Carmen should just get over it, stfu, and move on. NaS is long gone and happily married with Kelis (to my dismay :( ) This is probably the only book a young hoodrat will read this year, and look at the title! Just pathetic. And what's worse is she'll probably get a seat in front of Tyra, go on some big media shit blitz, and take up valuable book shelve space. All for nothing. HOE SIT DOWN.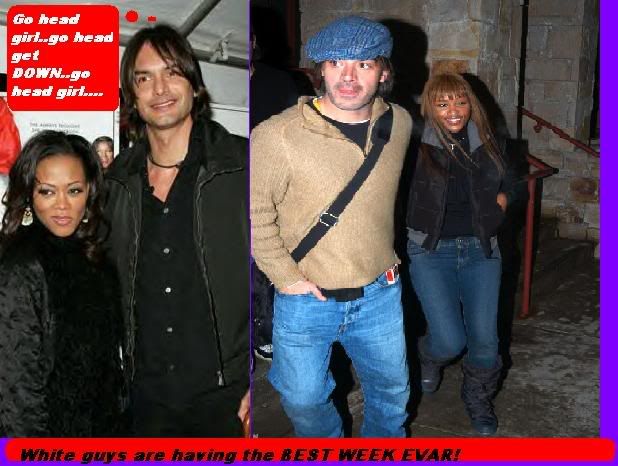 Look like Ms. Eve Jeffers is

movin' on up tooOOO whiiiite guyyyys

. And Robin Givens is well--Robin Givens. I think they both look great/happy..That's all that matters :)

--More reason why Mary J. Blige is Queen: listen to this Busta/Mary/Rah Digga/Missy-Touch It rmx. Hotness...