Ray J- the GANGBANGER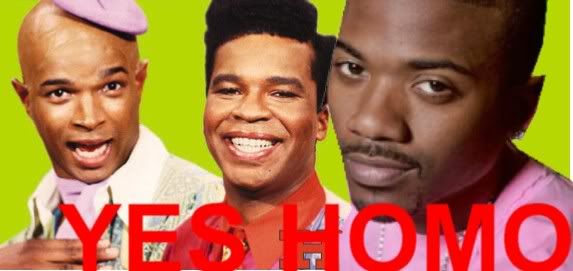 AP: So you're a former gangbanger?
Ray J: Yeah. As a teenager ... I was young and just trying to find myself. (PFFT!..)

AP: I've read that you've been shot at so many times, you can't remember all of them.(LMAO!!..yeah right!) Did they ever shoot at you for being Brandy's brother? (Probably..lol)

Ray J: (Laughs) No. When you live in Carson and Compton and Long Beach and you growin' up in the neighborhood, getting shot at is just a regular thing. If you're hanging out at the school after hours with your friends and y'all shootin' dice and people are drinking and smoking and it's a gang environment and it's a party life constantly, that's where another rival gang targets. Just wearing red or wearing blue, in L.A., you get shot at. It was just one day when I almost got shot in front of my house, my grandma, in front of my family, and I realized it was no more fun and games. We used to run and laugh and hop the gate and get away, but that time I felt like my life was being threatened. read the rest

*sigh*..Can someone say

CORN!!!



Ray-J *nigga please stare* Who you tryna fool with that suspect shirt? What set you from homay?!

Da Pink Pantha's

? Let's face it. The only gangbanging you've participated in required astroglide and a sturdy bed. I've come to the conclusion that this is nothing more than a ploy to sell records to the hood. Or

"pimp the hood"

as the #1 Hater Star (of Star and Buckwild) likes to call it.. It's really a shame that artists think selling a 'tough guy' image works for everyone. It really doesn't and it actually makes you look like a fucking clown. Just be your cute cornball self Ray-J. You might not sell a million records, but at least you'll still have your dignity(and Brandy's Moesha money).


Refresh button...


--According the the Daily news and via Fresh

Ray-J was spotted bustin' slobs with ole girl "Supahead"..Looks like he's not so homo. But he damn sho' got the yuck mouth...Ewww



Oh yea, remember I was tellin' you all about the Carmen Bryan/Nas book expose' thingy. Well here's the website. She's really trying to get her lil 15 minutes of fame. She even said she wants to turn the whole hip-hopera into a musical..Not a movie but a musical?!!! Here's a few links for her upcoming interview in

King Magazine's

March issue(shout out to MIKE BLESS of SOHH):


It

+Was+

Written

+

s-m-h



I guess hoes are gonna have the Best Year EVAR!